There is a lot to learn about UCSB, and it takes time to understand how the campus works. Don't let unfamiliar terms and acronyms intimidate you! This section will help explain some of the common UCSB terms and acronyms.
Common UCSB Terms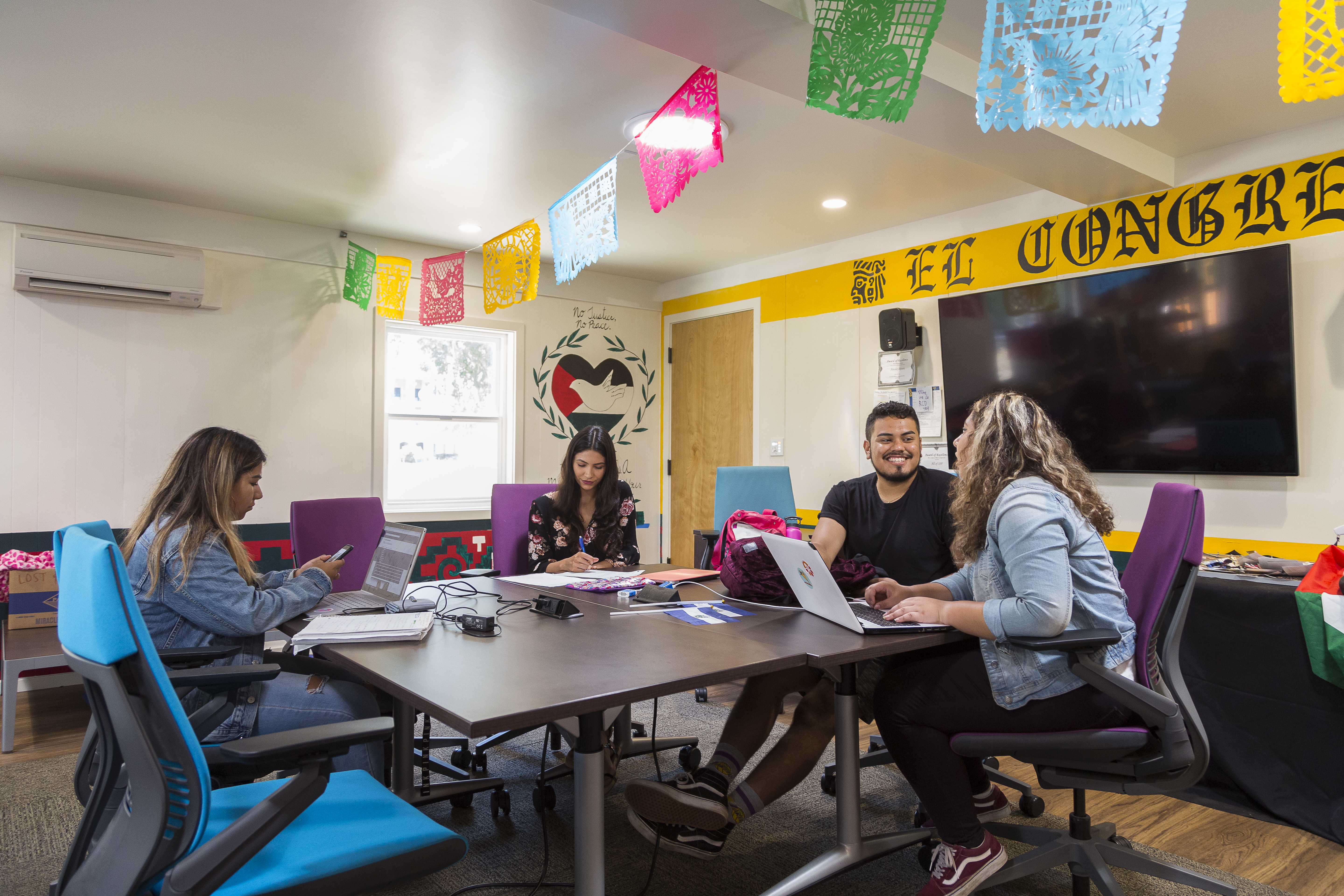 Registering for Courses
GOLD: Gaucho On-Line Data System, aka GOLD, is the student registration system. You will use GOLD to access your grades/academic history, registration information, class schedules, personal information updates, and more. Note: Class days are listed as M/T/W/R/F - R stands for Thursday.
Registration: Registration or enrollment is the process of enrolling in your courses. UCSB students have up to three different pass times.
Pass times: This means that you have a range of dates/times that the system will allow you to make changes to your courses (i.e. adding, dropping, or waitlisting courses). Pay careful attention to your pass times!
Courses
Canvas: Canvas is where you can access sites for your courses, find syllabus information, assignment due dates and more.
Syllabus: The syllabus is a guide for your course. Instructors will provide you with detailed information about the course such as learning outcomes, class expectations, required readings, assignment due dates, office hours, and more. It is very important to carefully read your syllabus so you don't miss important information.
Midterms/Finals: It is common for exams to be referred to as midterms (sometime in the middle of the quarter, but not always) or finals (at the end of the quarter). Each of your classes can be structured differently by the professors. Some courses may have one midterm and one final and other courses may have multiple exams throughout the quarter.
Office hours: Office hours are the times your instructors have blocked off to meet with students in their courses. You can attend office hours to ask questions about the course, to ask for help with course content or materials, or to just meet with the instructor individually. We highly recommend you attend office hours as a student! It is important to get to know your professors and TAs, especially if you are thinking about pursuing research or graduate/professional school in the future.
Professor: Professors are tenure-track faculty (Assistant Professor, Associate Professor, Professor). This means that they have both teaching and research obligations for which they are regularly evaluated. Typically, the professor will be the main instructor of your course. At a research university like UCSB, it is likely that your professor has earned a doctoral degree (Ph.D., Psy.D., Ed.D., etc.) in their field of study. In the summer, there is a possibility that one of your instructors may be a graduate student who is working towards earning their doctorate.
Lecturer: Lecturers may also conduct research, but their main responsibility at UCSB is teaching. They typically have doctoral degrees (Ph.D., etc.) and you can refer to them as "Dr." Like professors, lecturers are typically the lead instructors of courses.
TAs: Teaching Assistants, aka TAs, are graduate students who are assisting with the instruction of the course. TAs will lead your discussion sections or labs and contribute to grading your assignments and exams. TAs also hold their own office hours for each course, so you have the possibility of going to office hours with both your professor and your TA. In some cases, an experienced TA who has already completed a master's degree and who is being supervised by a lecturer or a professor may be the lead instructor for a course.
Lecture: Some courses will have a lecture and a discussion section OR lab. Lectures are typically where the main content of the course is delivered by the professor.
(Discussion) Section: Discussion sections are typically led by teaching assistants and are where you will have additional opportunity to discuss/practice the course content and assignments.
Lab: Labs are also typically lead by the teaching assistants and where you apply the content taught in lecture and in your readings.
Blue books: Blue books are examination booklets that some of your professors will require you to use for taking exams. They have a blue book and are filled with blank sheets of ruled paper.
Scantrons: Scantrons are used for multiple choice exams. Pay attention to the type of scantron that is required for each course - there are different sizes and colors!
University Structure
Research: Research is the careful and systematic examination of materials and sources with the intention of new discoveries. We strongly encourage you to pursue research opportunities with professors and graduate students so that you may discover whether you are interested in developing your own research projects in the future. It's also important to gain research opportunities before pursuing certain graduate school programs.
Research university: Being at a research university like UCSB means that research is a central mission of the university. Professors are also distinguished researchers in addition to being instructors of courses, and undergraduate students have many opportunities to get involved in research.
Major: Your major is your primary field of study in college. By earning a degree in your major, you have exemplified that you have a breadth and depth of knowledge about a particular discipline. Some students decide to pursue more than one major if they have deep interest in multiple fields of study. Please speak with a college academic advisor if this is something you are interested in so that you can see if it fits within your academic timeline.
Minor: A minor indicates that you've explored an additional area of study. Every student needs a major, but you do not need to declare a minor. Some students also choose to pursue more than one minor. To declare (or choose to pursue) a minor, speak to the academic advisor of the department that houses the minor.
Electives: Electives are courses that fall outside of your major requirements. Every student will need to take elective courses to fulfill the upper-division units needed to graduate.
Units: Units are the amount of educational credit that are dedicated to each course. The number of units will vary for classes depending on how much time you spend in class and the number of hours you are expected to dedicate to the course outside of class time.
GE: General Education requirement, aka GEs, are a set of courses that are considered foundational to your well-rounded university education. They will provide you with a breadth of knowledge to complement your major of choice.
General Catalog: The General Catalog is a comprehensive resource that includes information on courses, programs, activities, and services available at UCSB. It's where you can find the Undergraduate Major directory and Undergraduate Minor directory.
Lower-division courses: Lower-division courses have an assigned course number of 1-99 (e.g. AS AM 2 - American Migration Since 1965). They are open to all UCSB students and are especially appropriate for first and second year students.
Upper-division courses: Upper-division courses have an assigned course number of 100-199. They are open to students who have completed the necessary prerequisites for each course and are most commonly taken by juniors and seniors.
Prerequisites: These are the requirements that need to be completed before enrolling in a course. Pay attention to the different ways that you can meet the prerequisites for each course; this can vary.
Pass/No Pass: You may choose to take some of your courses as a Pass/No Pass option instead of electing for a letter grade. It is recommended that you review the Pass/No Pass policies and speak to an academic advisor before selecting this option.
IGETC: The Intersegmental General Education Transfer Curriculum (IGETC) is a series of courses that California community college students can complete to satisfy freshman/sophomore level general education requirements before transferring to most colleges and majors at UC campuses.
Academic advisors: Each student has at least two sets of academic advisors that you will work with - your major/department academic advisor and your college advisor. It is important that you meet with both advisors so that you can check to see if you are on track to earn a degree in your major and that you are completing all of the UCSB requirements to earn a degree from UCSB. Also, if you are considering a health profession or attending law school after graduation, you should meet with the Letters & Science Pre-Professional Advisors.
Colleges: UCSB has three colleges: College of Letters & Science, College of Engineering, and College of Creative Studies. Each student belongs to a college, and each college will have different requirements for graduation.
Quarter system: UCSB is on a quarter system. This means that there are 10 weeks of instruction and 1 week dedicated to final exams. A quarter goes by very quickly, so it is important that you are maintaining a schedule and staying on track of your assignments and exam dates. We have three main quarters during the academic year - Fall, Winter, and Spring.
Summer Sessions: Summer Sessions is summer school. Student have the option of participating in Summer Sessions. Some students choose to participate in Summer Sessions to stay on track of their intended timeline, make up courses, or to get ahead on their schedule. There are several sessions (length of time varies) to choose from in Summer Sessions.
BARC: BARC stands for Billing Accounts Receivable Collections unit. BARC is a centralized system that oversees bills that you are required to pay. For example, this is where you'll receive notice about pay for tuition and fees, campus housing charges, library fines, student health services, and more.
Tuition: Tuition is the amount a student pays to the university for teaching and instruction. It does not include the cost of books, fees, nor room and board.
Fees: Fees are additional university charges not included in tuition. Sometimes, students will vote on additional feels through Associated Students elections (student governmental association).
Financial aid: Financial support to assist in paying for your tuition and fees. Visit the Office of Financial Aid & Scholarships FAQs page to learn more.
Work-study: Work-Study is a need-based form of Financial Aid that you earn through on- or off-campus employment and receive in the form of a paycheck.
CalFresh: CalFresh is a federally funded food nutrition assistance program. Those who are eligible can receive up to $194 per month for groceries! After you apply, you will receive a plastic electronic benefits card that is reloaded each month.
Subsidized loans: With a subsidized loan, interest does not accrue until after you graduate or leave school. Always choose this type of loan first.
Unsubsidized loans: Unsubsidized loans begin accruing interest once you receive the first disbursement. If you get this type of loan, consider making loan payments while in school and/or during your grace period to reduce your overall cost.
Satisfactory academic progress: For annual financial aid eligibility, students must maintain their Satisfactory Academic Progress, such as a minimum GPA.
Shoreline: Shoreline is the campus engagement platform. Here, you can find student organizations, campus events, and more.
Undergrads: Undergraduate students aka undergrads are students who are pursuing their bachelor's degree - Bachelor of Arts (BA), Bachelor of Science (BS), or Bachelor of Fine Arts (BFA).
Class level: Undergraduate class level (freshman, sophomore, junior, senior) is determined by the number of units completed.
Grad student: Graduate students aka grad students have already earned their bachelor's degrees and are pursuing a graduate level degree. This can mean pursuing a master's degree, a doctoral degree, or both.
Transfer student: Transfer students have transferred to UCSB from a previous institution - this could be from a community college or another four-year institution.
Commuter student: A commuter is a student who lives off-campus, often with parents, family, friends, or individually.
Study abroad: Study abroad is a term given to a program that allows a student to live and study in a foreign country, most often for university credit. Check out UCSB's Education Abroad Program to learn more.
Greek life: On a college campus, Greek life includes fraternities and sororities that are social, cultural, service, and/or academically focused organizations.
Dining hall: The dining hall is where meals are served. You pay for these meals with a meal plan typically purchased through housing.
RA: Resident Assistant aka RA is a trained student leader who coordinates activities in residence halls in colleges. They are also good people to turn to for general campus advice!
UCSB Acronyms